No offence but that was pretty cool
Look, I know what you want, you want my review on AVP and House of Wax, I know this. Because my reviews rival the legendary thumbs of Ebert and that other guy but listen....I saw a car on fire, and it was pretty cool. I mean
BAM!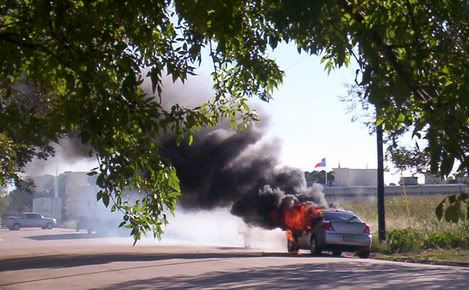 I wanted to get closer but you know, cars have gas tanks and I haven't been invincible to explosions since that hilarious trip to Germany, so I tried to keep my distance. Me and my good buddy Steve were skateboarding down the street when we saw the smoke. So we did what any young, healthy, and intelligent young adult would do if he saw smoke, we ran towards it. Going only as fast as our boards would let us we arrived to the scene. We watched and took pictures, a lot of pictures. But for you losers, I'm only gonna put two on here.
We don't know why this car was on fire, it's clear it started on the inside, that's all we know. The fire truck arrived on the scene and put an end to this automobon fire. They even banged the car up some, why? I don't know. But here's how it looked afterwards.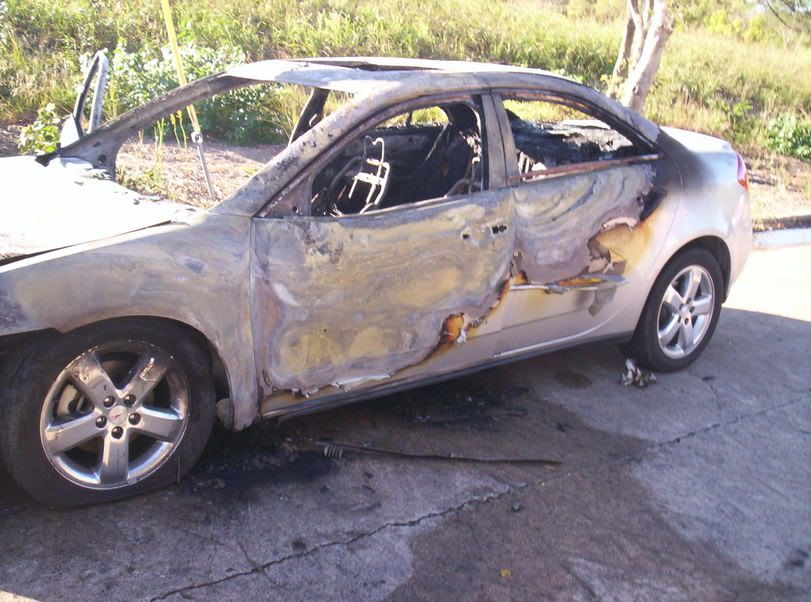 That was the closest shot I got before the nearby fire man barked at me to get away. But as you can see the car is toasted like a boy scout's smore. So for the dude who owns this car: No offence but that was pretty cool.